Wedding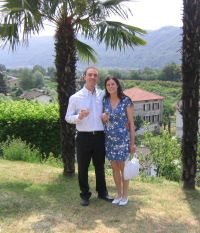 What is happening?
As the title above suggests, there will be a wedding - wippee!! And what will our wedding entail? Well, there will be a ceremony in a small chapel followed by photos, drink, food, music, dancing, drink and food. Did I say drink and food? Oh, and let's not forget the speeches and singing in between. The father of the bride is sure to make an entertaining speech. If you would like to place bets on the length of his speech, feel free to do so. As he is a betting man, I am sure he would be flattered and would honour the bet himself.
Who is getting married?
Wala and Matteo. The name Wala (pronounced Vala) is short for Waleria. Wala is named after her Polish grandmother. Wala has plenty of nicknames, none of which will be mentioned here however. Strangely enough, Valeria (with a V) is also an Italian name.
Matteo is pronounced Mat Teo, stressing the double T. Matteo is often called Teo for short.
Where is it happening?
The ceremony is taking place in a small chapel (it will be a tight squeeze) called St. Finbarr's Oratory in the valley of Gougane Barra, Co. Cork. The reception will be held in The Castle Hotel, Macroom.
When is it happening?
The two lovebirds will tie the knot on the 30th October 2009. Save the date and prepare for the big day after reading all the useful information on this wedsite.
Why is it happening?
Matteo and Wala met more than seven years ago and fell in love at first sight (awwh). It's about time they got wed, don't ya think?!
What's happening when:
8am - 11am

Big Irish Breakfast (optional but recommended)!

12 noon - 1pm

Church Ceremony
St. Finbarr's Oratory, Gougane Barra, Co. Cork
(please bring singing voices)

1pm - 2pm

Photos and explore beautiful surroundings (please bring cheesy smiles)

2pm - 3pm

Drive to Hotel in convoy (please bring cars with adequate horns)

4.30pm - 6pm approx

Dinner, The Castle Hotel, Main Street, Macroom, Co. Cork (please bring hungry bellies)

6pm - late

Music and fun (please bring dancing feet and acquire rosy cheeks)