Church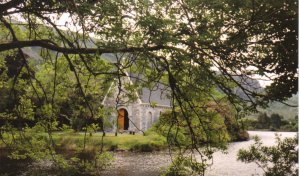 The Church ceremony will take place in the picturesque St. Finbarr's Oratory, nestled in the idyllic setting of Gougane Barra, one of the most scenic and romantic glens in County Cork.
Lucky for us, the forest park of Gougane Barra is beautiful in any season and in any weather with spectacular panoramas of mountain, valley, stream and lake. The late poet J.J. Callanan even recommends experiencing it in the rain when "In deep valley'd Desmond a thousand wild fountains come down to that lake from their home in the mountains".
The great grandmother of the bride to be, Kate Lehane, was from Toureen le hArd, which is only a hill away from Gougane Barra. Her love of the area has definitely been passed on. As a wee one, Wala used to visit Gougane, following the nature trails, climbing the hills and hiding behind trees. Even the public toilet in Gougane is a treasure. It won the prize for top toilet in Ireland in 2002. Did you even know there was such a thing? So, a wee stop here is obligatory!
Wikipedia has this to say about Gougane Barra:
"Gougane Barra (Irish: Guagán Barra, meaning 'Barra's retreat enclosed by mountains') is a settlement, west of Macroom in County Cork, Ireland.
The name Gougane Barra comes from Saint Finbarr, who is said to have built a monastery on an island in the lake nearby during the 6th century. The present ruins date from around 1700 when a priest called Denis O'Mahony retreated to the island. During the times of the Penal Laws, Gougane Barra's remoteness meant that it became a popular place for the celebration of the Roman Catholic Mass.
Afforestation of the area around the settlement began in 1938 and Gougane Barra is now home to a 1.42 square kilometre forest park which is home to a number of mammal and bird species."